TOS Weekenders are Back
TOS is delighted to announce the return of our Weekender programs, beginning with two super excursions in the fall of 2023. 
Weekenders are designed as fundraisers for TOS, and as opportunities for participants to learn about a specific area or about a certain family of birds, such as shorebirds or raptors, paired with field trips to put that knowledge to work. Participants gather on Friday for a presentation, go on a field trip on Saturday with a wrap-up field trip on Sunday ending around noon. The fee for the event is $100 per person.
Our first Weekender takes place in mid-October on the Upper Texas Coast, guided by TOS member Janey Woodley.  After a quick visit on Friday to Cattail Marsh, a member of the Golden Triangle Audubon Society will speak about the area.  Saturday and Sunday field trips include stops at our Sabine Woods and Hooks Woods Sanctuaries, Sea Rim State Park and Smith Point HawkWatch to search for south-bound migrants. This trip is currently full.
The second event is a Whooping Crane Weekender in November, led by TOS Recording Secretary Susan Foster.  It kicks off with a Friday presentation by the International Crane Foundation, and then on Saturday Susan will take you to some of her favorite hot spots in Rockport.   The trip concludes on Sunday with a three-hour tour on the Skimmer to see the Whooping Cranes at the Aransas National Wildlife Refuge.
Registration will be open two months before each trip, and should there be more registrants than the maximum number allowed, attendees will be selected by a random drawing. Two people may register to attend together.
If you have an idea or request for a Weekender in 2024, please let us know at info@texasbirds.org.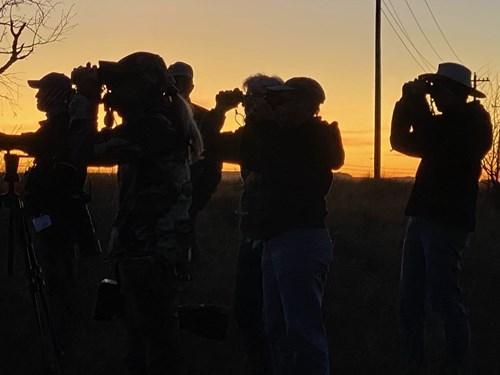 Texas Ornithological Society
Contact Us
Texas Ornithological Society
Welcome to the Amazing World of Texas Birds!
If you love birds, Texas is definitely the place for you! With eight different geographical regions to explore, each offering its own, unique wildlife environment; more than 660 species to be discovered; and a location adjacent to the tropical regions of Mexico and Central America, you never know what you might see when you grab your binoculars and head out!
Texas Ornithological Society is proud to promote the discovery, knowledge, observation and conservation of birds in Texas since 1953.