2023 Birding in Panama with Susan Foster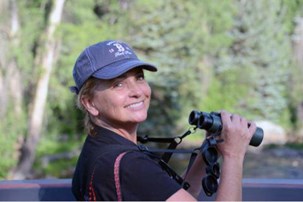 Our tour leader for this exciting trip will be TOS Secretary Susan Foster.  A longtime TOS member, Susan is a retired teacher who spends most of her time in the pursuit of all things birds.  She spent 30 years as a resident of Laredo, Texas, enjoying the unique avifauna of the Texas/Mexican border. In the past decade or two, she has led bird tours in and around South Texas for the Rio Grande Valley Birding Festival, Laredo Birding Festival, Rockport HummerBird Festival, the Aransas Bird and Nature Club, the Audubon Outdoor Club, The Birdiest Festival, and the Texas Ornithological Society,  and has given presentations on eBird for the Aspen Center for Environmental Studies. She was a founding member of the Monte Mucho Audubon Society and is currently secretary of the Aransas Bird and Nature Club, as well as a Regional Director and Secretary of the Texas Ornithological Society. Originally from Massachusetts, she spends her time birding in Colorado in the summer and all around Texas and beyond during the remainder of the year.  Susan currently lives on the coast in Rockport, Texas.
Before registering attendees must be sure they are able to ascend and descend four flights of stairs daily, own a U.S. passport that is valid through March 4, 2024, submit COVID-19 vaccination card showing at least two vaccinations and most recent booster, and sign a liability waiver form.  After the trip is deemed a go, participants must buy travel insurance.  We will offer the names of several companies for this requirement. 
Cost for TOS members is $3,395 double-occupancy, and for non-members it is $3,430 which includes a one-year membership. There is an additional $900 single occupancy option.
Full payment may be made immediately, or a $900 deposit ($935 for non-members) can hold your place. This deposit is refundable, minus a $350 administrative fee, only until (15) days before TOS makes its initial payment to vendors. Beginning the 14th day before our initial payment to vendors, the deposit is non-refundable. The full balance is due by June 19, 2023.
Once we make our final payment to vendors, approximately 14 days after the due date, there will be no refunds of any portion of the trip fee. 
The cost of the trip includes lodging, meals, daily tours with a local guide, and local transportation
Read on!
Canopy Lodge (4 Nights - Aug. 26-30)
This part of the tour explores the foothills and cloud forests of El Valle de Anton — the home of motmots, tanagers, hummingbirds, antpittas and the mythical Rufous-vented Ground-Cuckoo!  We enjoy accommodations at the award-winning Canopy Lodge, with exciting bird-filled trips to La Mesa, Cerro Gaital Natural Monument, Cara Iguana, Las Minas, and the beaches of Juan Hombron and Santa Clara — all designed to find as many of the area's specialties as possible!
Canopy Tower (5 Nights - Aug. 30-Sept. 4) 
This part of the tour emphasizes the bird-rich lowland tropical forests of the Canal Zone. It features some of the best birding Central America has to offer!  Our base of operations will be the world-famous Canopy Tower with unlimited access to our fabulous Observation Deck every morning, afternoon and evening, where you can enjoy "canopy birding" at its best!  Excursions to some of Panama's premier birding locations, including the world famous Pipeline Road, along with Semaphore Hill, Plantation Trail, Summit Ponds, the Panama Rainforest Discovery Center and its remarkable tower, the Chagres River, Gamboa and the marshy Ammo Ponds round out an outstanding 5 days of birding.
CLICK TO VIEW THE COMPLETE ITINERARY.
Texas Ornithological Society
Contact Us
Texas Ornithological Society
Welcome to the Amazing World of Texas Birds!
If you love birds, Texas is definitely the place for you! With eight different geographical regions to explore, each offering its own, unique wildlife environment; more than 660 species to be discovered; and a location adjacent to the tropical regions of Mexico and Central America, you never know what you might see when you grab your binoculars and head out!
Texas Ornithological Society is proud to promote the discovery, knowledge, observation and conservation of birds in Texas since 1953.